Construction Safety Software for Every Step of the Project Lifecycle
Enhance construction site safety and foster sustainable growth using Intelex EHS software solutions. Mitigate site risks, simplify compliance and ensure a secure environment, contributing to a more productive and safer workplace for frontline workers.
Intelex Drives Risk Reduction and Compliance Improvement
Intelex empowers construction companies with robust software solutions. Elevate safety standards, meet
regulation requirements and streamline operations for secure and efficient construction projects.
Ease of Use
Adopting new technology is challenging for frontline workers due to change resistance and perceived complexity. Intelex's user-friendly interface ensures seamless adoption and efficiency.
Regulatory Compliance
Navigating evolving regulations across project locations is complex. Intelex EHS software for construction safety management streamlines compliance, including OSHA, with centralized and automated tracking and reporting, helping to prevent fines and legal issues.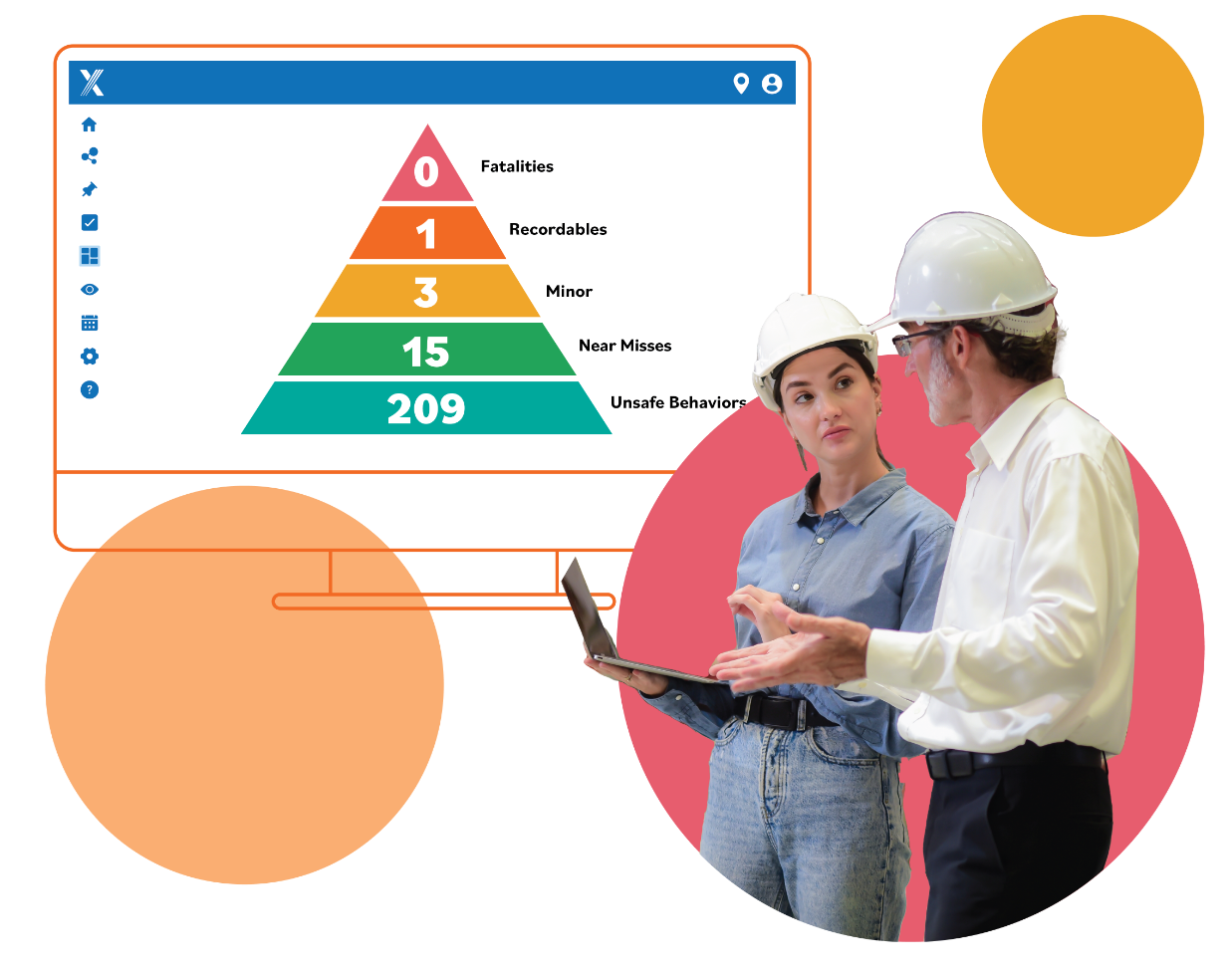 Quality Data and Insights
Manual data collection, non-standard processes and diverse subcontractors can yield poor data, causing resource wastage and unsafe work sites. Intelex construction safety management software automates data collection and provides real-time insights, promoting a culture of improvement for safer, more efficient projects.
Risk Management and Incident Prevention
Frontline workers face numerous risks and hazards, such as falls, electrocutions and object impacts. Intelex EHS software identifies and mitigates risks in real-time, fostering safety by preventing accidents, injuries and delays.
Efficient Documentation and Reporting
Construction projects generate a substantial amount of documentation including training records, incident reports and more. Intelex EHS software for construction projects streamlines this with a centralized platform that automates recording, storage and retrieval of safety records.
Enhanced Communication and Collaboration
Construction projects require efficient coordination amongst diverse teams, contractors and stakeholders. By leveraging mobile capabilities, automated notifications and real-time analytics, Intelex construction safety software ensures secure access to up-to-date records and workflows.
Unlock safety, communication, and compliance improvements. 
5 Steps for Implementing Leading Indicators in Construction Safety
Learn how to optimize the creation of a digital safety management system built on data and analytics for construction.
Discover how Moss successfully improved their
safety management system with Intelex
The Intelex platform allows us to analyze EHS metrics in real time and respond more quickly to positively influence future events.
Scott Gerard
Vice President, EHS
Moss
in frequencies of injuries
from 2017 to 2018
Trusted by over 1,400 clients and 3.5 million users worldwide
Frequently Asked Questions
Intelex EHS software helps construction firms manage safety, compliance and environmental concerns efficiently by streamlining processes, reducing risks and promoting a proactive safety culture.
Explore EHS Resources for Construction Excellence
Explore why construction firms struggle with reducing on-the-job incidents and how safety management software can help keep frontline workers safe in this infographic.
Transform your organization's Environmental, Health & Safety and Quality management today.